South Patagonia, Chile, during the winter. What to expect? I have just finished another photo tour there and thought it would be nice to write a blog post on what to expect during the winter.
Weather is known to be harsh in Patagonia, and that is usually the truth, specially to someone more used to the tropics like me. Even during the warmer months it can still be very cold in certain conditions and very, very windy, but is it super cold during the winter? To my surprise, NO! It was actually quite alright, colder than other times of the year, of course, but not that much colder. On average during this trip made in mid July 2019 we had temperatures ranging from -3ºC to 5ºC (26º to 41°F). Truth be told, locals said that temperatures were abnormally high, it's usually somewhat colder. The wind was mostly calm during the day, only a few times we found some wind, but much less than October, for example, which made things quite comfortable actually. It's still quite cold, so wearing proper clothing is essential. Be specially aware of your feet and hands.
Climate was sunny with periods of cloudy skies on the eastern parts of the park and on the estancias just outside of it, which are the areas we look for pumas. The western sector was always more overcast though, with ocasional light rain.
What about snow? That's the main reason someone goes to South Patagonia to photograph pumas during the winter right? Get them on the snow. Well, the places we search for pumas in Torres del Paine region are mostly just below the snow line. This means that there is no constant snow on the ground there, even at the peak of the winter. To get snow in those areas you need recent snowfall. Two or three days without snow and it melts away. So, while you have a good chance to get snow there, it's not 100% guaranteed. We got snowfall on our first morning and snow on the ground for the next couple days, but afterwards it completely melted away, except at the higher parts, where you still had some snow.
We got the shots, as you can see here, but it depends on snowfall. Below are two shots at the same place:
Wintertime proved excellent for Pumas, as other times of the year. On this trip we saw 14 or 15 different individuals. For birds winter is poorer though, as most migrate away. You do find a few species of ducks, grebes, flamingos, raptors and some smaller birds, but not many. Some lakes even go completely frozen, as this one below, so that means less open water available for water birds.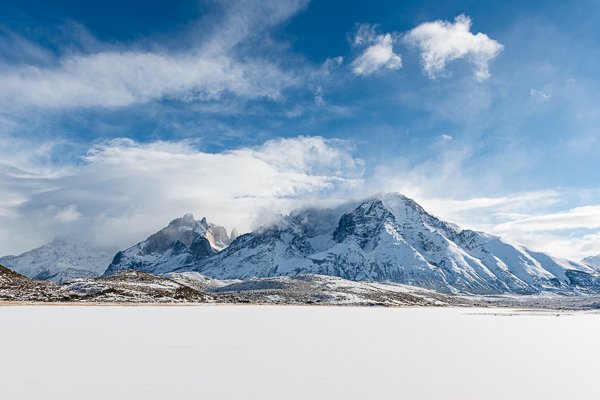 In short, winter is amazing at Patagonia. We got incredible results and my clients went back home super satisfied and with hard disks full of photos. But it's not 100% guaranteed for snow, we got it this time, but we could have missed it for a few days. Of course, if you want photos of pumas in the snow, it's the only time to go.